Note: as you'll read in my book, Revolution from Within, we've been under the scare of a hot war between Russia and the United States for all of my life and considerably before that — infamous WW3 scaremongering. While I think the below articles are fascinating for illustrating different viewpoints about the same topic (and for revealing plots within plots), I do not see the price of oil as a deliberate anti-Russian move by the USA  and, as you'll see, the USA is likely to be hurt as much as Russia.   Today, we worry and feel compassion for the Russian people who are seeing their life savings be wiped out in the currency devaluation… yet we also celebrate a temporary boon in North America where the vast majority of the population (who've simply gotten poorer and poorer, with 46.5M requiring food stamps to survive), suddenly find they have a small windfall of extra monies to spend for the holidays, thanks to the price at the pump returning to historic norms.  Ironies.
Western Mainstream Media
Russia's Ruble Crisis Is Red Alert for Investors
Russia is Posing Risks to Global Markets
By Richard Barley The Wall Street Journal  http://www.wsj.com/articles/russias-ruble-crisis-is-red-alert-for-investors-heard-on-the-street-1418735246
Too much, too late? Russia's central bank finally responded to the steep decline in the ruble late Monday, raising rates to a sky-high 17% from 10.5%. But the ruble plummeted to new record lows Tuesday. Confidence in Russia's ability to manage its economic plight is evaporating.
The ruble has now lost more than half its value so far this year against the dollar; in December alone it has fallen close to 30%. The move accelerated dramatically after the central bank last week lifted rates by one percentage point, a move that was seen as inadequate. The 6.5 percentage-point increase offered little respite: the ruble plunged to 80 against the dollar before partially recovering, a major cause for concern. With little sign of a bottom in oil prices—Brent crude fell below $60 a barrel Tuesday—it is difficult to see the ruble stabilizing.
Risks to financial stability are increasing sharply as a result. Russia's companies and banks are locked out of international markets due to sanctions imposed over the Ukraine crisis. Now they face extraordinary interest rates domestically, raising the chance of a deep recession and rising defaults.
Russia's foreign-exchange reserves still provide some anchor. As of November, excluding gold and items related to the International Monetary Fund, they stood at $361 billion, down 21.7% from a year ago. Russia faces some $125 billion in foreign-debt payments over 2015. But the collapse in the ruble is making payments more onerous if companies don't generate foreign earnings in sufficient quantities. A key factor now will be the response from Russian savers. If they abandon the ruble—despite massively positive real interest rates—then the risk of bank runs will rise and it will be difficult for the central bank to turn the tide.
The problem for the central bank is that it is swimming against powerful forces. The economic outlook is awful given Russia's dependence on oil and there is no sign of détente with the West over Ukraine. The central bank warned this week that with oil at $60 a barrel, the economy could contract by 4.5% to 4.7% in 2015. The drought of Western investment in Russia threatens the longer-term picture.
In response to a continued decline in the ruble, the central bank could increase rates further—increasingly crushing the outlook for growth—or it could intervene in the market. But the danger in doing so is that it would simply deplete its reserves without obtaining more than temporary relief.
More broadly, Russia's woes pose a bigger threat than this year's other bouts of emerging-market turbulence. Russia carries a hefty weight in emerging-market bond indexes and it has important economic links with Europe. Already, investors have reported so-called "portfolio contagion"—selling assets that are performing well because liquidity for securities that are falling in price is limited. That will create opportunities, in time. But initially it threatens to spread the damage.
Russia is waving a big red flag for investors.
—Richard Barley
---
Oil Surges From Five-Year Low as OPEC Comments Add Volatility
Dec 19, 2014 3:26 PM ET    By Mark Shenk  http://www.bloomberg.com/news/2014-12-19/oil-rebounds-from-5-year-low-as-market-most-volatile-since-2011.html
Crude prices surged from the lowest closing levels since May 2009 as comments from Saudi Arabia's oil minister yesterday added to the most volatile market in three years.
West Texas Intermediate climbed 4.5 percent in New York, the biggest gain since August 2012. Both WTI and Brent rose more than 5 percent during the session. A measure of expected WTI futures movements and a gauge of options value was at the highest level since October 2011, data compiled by Bloomberg show.
While Ali Al-Naimi, Saudi Arabia's oil minister, said yesterday that a slump in prices was temporary, he also said it would be "difficult, if not impossible" for OPEC to curb its oil production amid a glut, the Saudi Press Agency reported. Prices rose immediately after his remarks, before ending the day at the lowest in five years. The nation accounted for about 13 percent of global oil output last year, BP Plc estimates.
"Oil continues to find value buyers when it falls to these levels," said John Kilduff, a partner at Again Capital LLC, a New York-based hedge fund that focuses on energy. "This is still a weak market. We're looking at more supply, not less."
WTI for January delivery rose $2.41 to settle at $56.52 a barrel on the New York Mercantile Exchange. The contract, which expired today, fell 4.2 percent to $54.11 yesterday. The more active February future gained $2.77, or 5.1 percent, to $57.13. Prices dropped 2.2 percent this week, and are down 43 percent this year.
Record Levels
Brent for February settlement increased $2.11 to $61.38 a barrel on the London-based ICE Futures Europe exchange. The North Sea oil was little changed this week and down 45 percent in 2014. The European benchmark crude closed at a $4.25 premium to WTI for February delivery.
Crude has slumped about a quarter since Saudi Arabia led a decision last month by the Organization of Petroleum Exporting Countries to maintain its collective output target. U.S. oil producers continue to pump at record levels, contributing to a global glut and competing with the 12-member group for market share.
Implied volatility for at-the-money options in the front-month WTI contract increased to more than 51 percent today, data compiled by Bloomberg show. Brent volatility is also at the highest since 2011.
Oil markets are experiencing "temporary" instability caused mainly by a slowdown in the world economy, Al-Naimi said, according to comments published yesterday by the Saudi Press Agency. Steady global economic expansion will resume, spurring demand, according to the minister, leading him to be "optimistic about the future."
$40 Oil
OPEC shouldn't be expected to cut output while other producers continue to expand, United Arab Emirates Energy Minister Suhail al-Mazrouei said on Dec. 14. The group will refrain from cutting output even if oil prices fall as low as $40 a barrel and will wait at least three months before considering an emergency meeting, al-Mazrouei.
"Naimi appeared to be relaxed in his comments," said Phil Flynn, senior market analyst at the Price Futures Group in Chicago. "His colleague from the UAE was a lot more enlightening. He called out the U.S. shale producers."
OPEC, which supplies about 40 percent of the world's oil, pumped 30.56 million barrels a day of crude in November, a Bloomberg survey of companies, producers and analysts shows. That exceeded its collective target of 30 million for a sixth straight month.
Market Share
In Russia, the world's largest crude producer, the economy must adapt to the reality of prices that could decline to as low as $40 a barrel, according to President Vladimir Putin. Oil's collapse may be due to a battle for market share between traditional producers and shale companies, he said at his annual press conference in Moscow yesterday.
The U.S. oil boom has been driven by a combination of horizontal drilling and hydraulic fracturing, which has unlocked supplies from shale formations including the Eagle Ford and Permian in Texas and the Bakken in North Dakota. The three shale plays pumped record amounts of oil in November, according to the American Petroleum Institute.
Production from the nation, the world's biggest oil consumer, expanded to 9.14 million barrels a day through Dec. 12, the Energy Information Administration said. That's the highest level in weekly data that started in January 1983.
"OPEC appears to want to break the U.S. shale producers," Flynn said. "Their main goal is to subdue production and they seem to be having some success. Investment is being reduced and rig counts are heading lower." [Read more…]
---
Note: of course, the Russian ruble is not the only target of the new oil price wars… all alternative sustainable energies – especially in the United States – find themselves challenged…
Cheaper oil could damage renewable energies, says Richard Branson
Entrepreneur claims Saudi Arabia is encouraging collapse in oil price in bid to undermine fracking and clean energy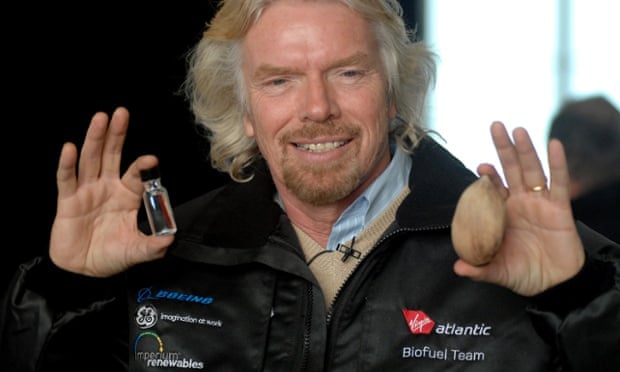 According to Branson, who part-owns Virgin airlines and has invested an estimated £300m in a succession of green fuel, solar and other clean-tech energy developments, the dramatic rise of renewables over the last few years has hurt oil producing countries as much as fracking. "Before the oil price collapsed, solar was actually cheaper [than oil]. If oil goes down to $30-$40 a barrel, then it will make it much harder for clean energy. Governments are going to have to think hard how to adapt to low oil prices," he said.
Branson was talking ahead of the merger of his not-for-profit low-carbon thinktank Carbon War Room with the Rocky Mountain Institute (RMI). The latter was set up in 1982 by the west's most celebrated energy-theorist, Amory Lovins. The two philanthropic organisations that Branson and Lovins head are unique in that they both advise businesses and governments how to reduce carbon emissions.
"We both bring something. Carbon War Room is bold and agile, RMI has the rigour," said Branson, who said he would continue to support the new operation financially. In a joint statement, the two organisations said they planned to expand into China and elsewhere to transform carbon-based economies "with a combination of science, technology and a'let's do it' business spirit".
<<snipped Branson's plug for carbon energy tax… you can read about his views in the full article linked above>>
Eastern and Alternative Views
Sanctions not aimed at paralyzing Russia economy: Germany
http://www.presstv.com/detail/2014/12/19/390954/bans-not-aimed-at-crippling-russia/
 The file photo shows pro-Russia militants in Donetsk, eastern Ukraine.
Germany says European Union (EU) sanctions against Moscow do not intend to paralyze the Russian economy.
"The idea behind what we are doing on Ukraine and political pressure is not to lay low the Russian economy," said Sawsan Chebli, a German Foreign Ministry spokeswoman, on Friday, adding, "It's about inducing a change in behavior."
She also stated that the recent EU sanctions against Moscow had been decided earlier by lower-level officials and were only confirmed by EU leaders during their summit in Brussels on Thursday, adding that the new sanctions are not aimed at further depreciation of the ruble.
"It [the new round of sanctions] came out at the time of news of the plunge in the ruble. It happened all at once, as a matter of timing, but [the tightening of sanctions] was not in reaction," Chebli pointed out.
The EU leaders are now in Brussels for a two-day summit to address two major challenges facing the bloc, namely the eurzone's sluggish economic growth and the growing influence of Russia in the region.
The West accuses Moscow of supporting pro-Russia forces in east Ukraine, saying the Russian intervention poses a security threat to Ukraine and all other neighboring states. Russia has strongly denied the allegations.
The two mainly Russian-speaking regions of Donetsk and Lugansk in eastern Ukraine have been the scene of deadly clashes between pro-Russia protesters and the Ukrainian army since Kiev's military operation started in mid-April in a bid to crush the protests.
Kiev and pro-Russia forces recently agreed to stop fighting under the terms of a Kremlin-brokered ceasefire
Why Oil Is Plunging: The Other Part Of The "Secret Deal" Between The US And Saudi Arabia
Submitted by Tyler Durden on 10/11/2014 18:19 -0400 at ZeroHedge News  http://www.zerohedge.com/news/2014-10-10/why-oil-plunging-other-part-secret-deal-between-us-and-saudi-arabia
Two weeks ago, we revealed one part of the "Secret Deal" between the US and Saudi Arabia: namely what the US 'brought to the table' as part of its grand alliance strategy in the middle east, which proudly revealed Saudi Arabia to be "aligned" with the US against ISIS, when in reality John Kerry was merely doing Saudi Arabia's will when the WSJ reported that "the process gave the Saudis leverage to extract a fresh U.S. commitment to beef up training for rebels fighting Mr. Assad, whose demise the Saudis still see as a top priority."
What was not clear is what was the other part: what did the Saudis bring to the table, or said otherwise, how exactly it was that Saudi Arabia would compensate the US for bombing the Assad infrastructure until the hated Syrian leader was toppled, creating a power vacuum in his wake that would allow Syria, Qatar, Jordan and/or Turkey to divide the spoils of war as they saw fit.
A glimpse of the answer was provided earlier in the article "The Oil Weapon: A New Way To Wage War", because at the end of the day it is always about oil, and leverage.
The full answer comes courtesy of Anadolu Agency, which explains not only the big picture involving Saudi Arabia and its biggest asset, oil, but also the latest fracturing of OPEC at the behest of Saudi Arabia…
… which however is merely using "the oil weapon" to target the old slash new Cold War foe #1: Vladimir Putin.
To wit:
Saudi Arabia to pressure Russia, Iran with price of oil

Saudi Arabia will force the price of oil down, in an effort to put political pressure on Iran and Russia, according to the President of Saudi Arabia Oil Policies and Strategic Expectations Center.

Saudi Arabia plans to sell oil cheap for political reasons, one analyst says.

To pressure Iran to limit its nuclear program, and to change Russia's position on Syria, Riyadh will sell oil below the average spot price at $50 to $60 per barrel in the Asian markets and North America, says Rashid Abanmy, President of the Riyadh-based Saudi Arabia Oil Policies and Strategic Expectations Center. The marked decrease in the price of oil in the last three months, to $92 from $115 per barrel, was caused by Saudi Arabia, according to Abanmy. 

With oil demand declining, the ostensible reason for the price drop is to attract new clients, Abanmy said, but the real reason is political. Saudi Arabia wants to get Iran to limit its nuclear energy expansion, and to make Russia change its position of support for the Assad Regime in Syria. Both countries depend heavily on petroleum exports for revenue, and a lower oil price means less money coming in, Abanmy pointed out. The Gulf states will be less affected by the price drop, he added.

The Organization of the Petroleum Exporting Countries, which is the technical arbiter of the price of oil for Saudi Arabia and the 11 other countries that make up the group, won't be able to affect Saudi Arabia's decision, Abanmy maintained.

The organization's decisions are only recommendations and are not binding for the member oil producing countries, he explained.
Today's Brent closing price: $90. Russia's oil price budget for the period 2015-2017? $100. Which means much more "forced Brent liquidation" is in the cards in the coming weeks as America's suddenly once again very strategic ally, Saudi Arabia, does everything in its power to break Putin.
---
Richard Branson: S. Arabia attacking renewable energy with cheaper oil
Published time: December 17, 2014 17:49 ;  Edited time: December 19, 2014 09:11 http://rt.com/business/215235-branson-cheap-oil-renewables/ 
"They have done it before and it hurt," the Guardian cited Branson as saying. "They don't just want to damage the US fracking industry, but also the clean energy business. The collapse of oil prices is going to make it much more difficult for clean energy."
READ MORE: Oil producers to lose $1tn if price below $60 – Goldman Sachs
Branson, the founder of the venture capital conglomerate Virgin Group, who has invested an estimated $350 million in clean technologies, said that both fracking and renewables had put a drastic dent in the bottom line of oil producing countries over the past few years.
"Before the oil price collapsed, solar was actually cheaper [than oil]. If oil goes down to $30-$40 a barrel, then it will make it much harder for clean energy. Governments are going to have to think hard how to adapt to low oil prices," he said.
He said it was time for governments who are intent on reducing their carbon emissions to levy a carbon tax on fossil fuel users, which would be offset but the corresponding drop in prices.
"If governments want a carbon tax [at the climate summit] in Paris next year, then it would be the best time. What the clean energy business needs is a gap between it and coal and oil."
Last month, OPEC, the global cartel of oil producing countries, which includes Saudi Arabia, opted not to cut back on oil production amid plummeting crude prices during its 166th meeting.
Since June, the value of oil has nearly halved, with crude following below $60 per barrel for the first time since July 2009.
Ali al-Naimi, Saudi Arabia's oil minister, reportedly told fellow OPEC members that a concerted attack on US shale oil was needed to reduce the profitability of North American producers.
"Naimi spoke about market share rivalry with the United States. And those who wanted a cut understood that there was no option to achieve it because the Saudis want a market share battle," Reuters cited a source who was briefed by a non-Gulf OPEC minister as saying.
On Tuesday, Kuwait's oil minister Ali al-Omair said OPEC has no intention of intervening to prop up the price of oil.
READ MORE: OPEC won't cut production even if oil below $40 – UAE energy minister
He added that "[many of] the shale oil and sand oil companies are producing at a cost higher that current oil prices," AFP reports. When asked if OPEC would meet again if the price of oil dropped to $40 dollars a barrel, he said "there are no plans," adding that "we will talk about it when the time comes."
His comments mirrored those made by the United Arab Emirates' energy minister to Bloomberg on Monday.
"We are not going to change our minds because the prices went to $60 or to $40," Mazrouei told Bloomberg. "We're not targeting a price; the market will stabilize itself." He said that OPEC would have to wait "at least a quarter" before considering an extraordinary session, saying current conditions did not "justify" such a meeting.
The collapse of oil prices has in part led to volatility in the Russian economy. Russia, one of the world's largest oil producers, was forced to hike interest rates to 17 percent in support of the ruble, which lost as much as 20 percent of its value on Tuesday.
Western-backed sanctions against Russia, which have also trammeled Russia's ability to get foreign credit, have also contributed to ruble's recent volatility.
READ MORE: Ruble rumble: Currency gains ground after Tuesday trauma
The Central Bank has expended in excess of $80 billion to prop up the ruble this year, including more than $8 billion since free floating the currency in November.
According to BBC estimates, Russia loses approximately $2 billion in revenue for every dollar fall in the price of oil.
Moscow, however, says it will not cut back its own oil production to ratchet up the price of oil.